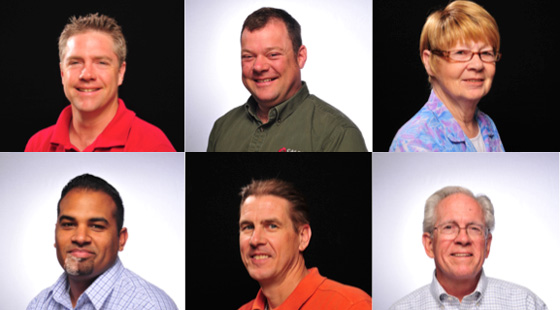 David Clewell
President
Dave is a graduate of the American Academy of Mortuary Service in New York City. After 5 years in the Funeral Business in Arlington, VA, he was asked into the other family business, CAS Pack Corporation. The box business was more of what he wanted to do for the future. He was able to use his business education along with the CAS Pack team to expand the sales and size of the company through diversification into new products and increased sales.

Scott Clewell
Vice President of Sales & Marketing
Scott was born and raised in Paoli, PA. After earning his Business Degree from West Chester University he was employed by Anheuser Busch until he decided to work for the family business. Scott joined CAS Pack in May 2000 and has worked in many of the different departments. As the VP of Sales & Marketing he strives to diversify and continue in the development of the company.
Hobbies: Wakeboarding / Snowboarding

Jesse Smith
Vice President of Operations
As a long time CAS Pack employee dating back to his teenage years working summers, Jesse extracted waxed corrugated boxes from the production lines in the dead heat of the summer (which he refers to as "the dark days). He graduated form Syracuse University with a Bachelors Degree in English. It wasn't until 1996 that he started his career with CAS Pack. He has gained his wealth of knowledge working in production, sales, shipping and operations. With loyal customers and dedicated employees, Jesse looks to help lead CAS Pack into the future. In his spare time he enjoys woodworking, playing the piano, and gardening with his three daughters.

Peter Zimmermann
Purchasing Manager
Upon completion of his degree from LaSalle University, Pete worked for Motive Suppliers Inc. as the inventory control manager. In 1989 he was acquired by CASPack as the inventory and warehouse manager. After spending several years familiarizing himself with the line of products he then proceeded to work in the department of sales. Presently, Pete is accountable for the management of estimating, purchasing, and sales support.
Hobbies: Cycling / Skiing

Rick Rolon
Inventory/Quality Control Manager
Since 2010 Rick has worked in various departments as a seasonal employee for CAS Pack while pursuing his second Degree. Now as a full-time contributor to the company he has been tasked with the responsibility of overseeing inventory and quality control.
Hobbies: Snowboarding / Riding Motorcycle

Judy Whooters
Office Manager
Judy arrived at CASPack in 97'. She has been a valuable asset to the company over the numerous years handling all administrative and accounting responsibilities. Outside of work she is strongly dedicated to spending time with her 8 granddaughters, grandson, and great grandson.