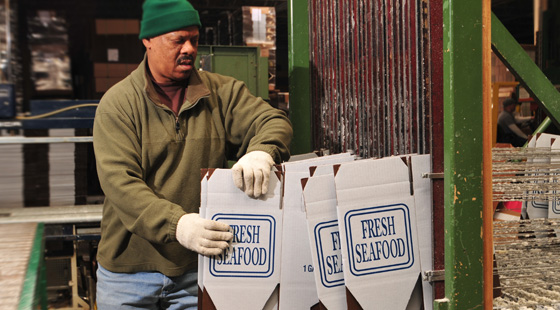 Our Difference
At CAS Pack, we measure our success by the success of our customers. Our primary goal is to deliver a product that goes beyond packaging.
---
"Customer service is top notch,
they are readily available to supply and deliver in a timely manner."
Wax Coated Boxes
Our waxed coated boxes are either dipped or cascaded through a process that we have perfected over the years. We have developed a proprietary wax formula needed for the perfect paperweight. The wax coating creates a stronger more durable box for transporting heavy produce and making them water resistant for products such as seafood.
Full Service Packaging Solution
From design to delivery, CAS Pack gives customers the opportunity to think outside the box. Customers can select standard packaging or work with our designers to produce custom graphic designs for your packaging or labels. In the end, we deliver top-quality packaging that keeps your products safe while looking great.
"They thrive for the very best in what they do."
We're more than just a packaging supplier
Why stop at packaging? CAS Pack also offers value-added services like cost-saving consultations to help you choose the right packaging strategy, and food safety support to ensure that your facility meets the latest food safety regulations.
Service to you is our first priority
We pride ourselves on our strong relationships with our customers. CAS Pack retains 95% of customers from year to year. These long-lasting partnerships are a result of the quality of our products, our accessibility, and our willingness to negotiate and work with our customers to increase their profit margins. If there is a price decrease in raw materials CAS Pack will always pass on the decrease to our customers or will notify them about an upcoming price increase before it happens.